My daughter and her cousins were inside the Disneyland Park for almost 7 hours so when we met 8 hours later, I was excited to interview what transpired inside.  She said it was nice but not as nice as she expected it to be.  She's been expecting rides that needs adrenalin rush or those crazy rides that will scare those with weak hearts.  But then she rode a few with her cousins.
They went into the park almost one in the afternoon and we left them there with the parents of her cousins and a friend.  Wish I could go in with them but I had other things in mind aside from the fact that I don't have budget for it.  She's the most important person to experience Disney that day because I think and her Omi also thinks that Disney is for kids.
I took some time to browse that map of the park and this is what I got —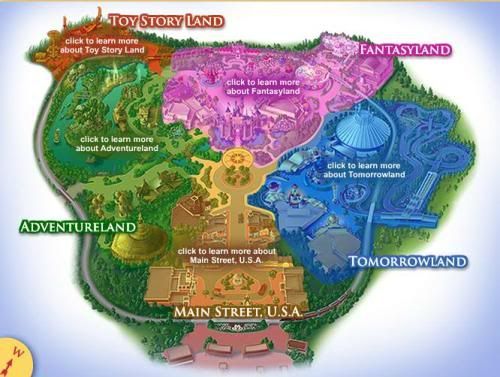 s0urce: internet
It is huge!  They really need a whole to cover all nooks but I guess they tried to see the main attractions that her Mommy Ailo really become tired following them around with her camera so that almost every nook they are in and every Disney character they come in contact with is being documented with a photo. =)
In the previous post, you can see the daughter with Minnie Mouse.  So here here with —
Dimple with Mickey!
Minnie's boyfriend.
photo disclaimer: this photo is taken by Ailo